3.6.

VT AIR 1500¶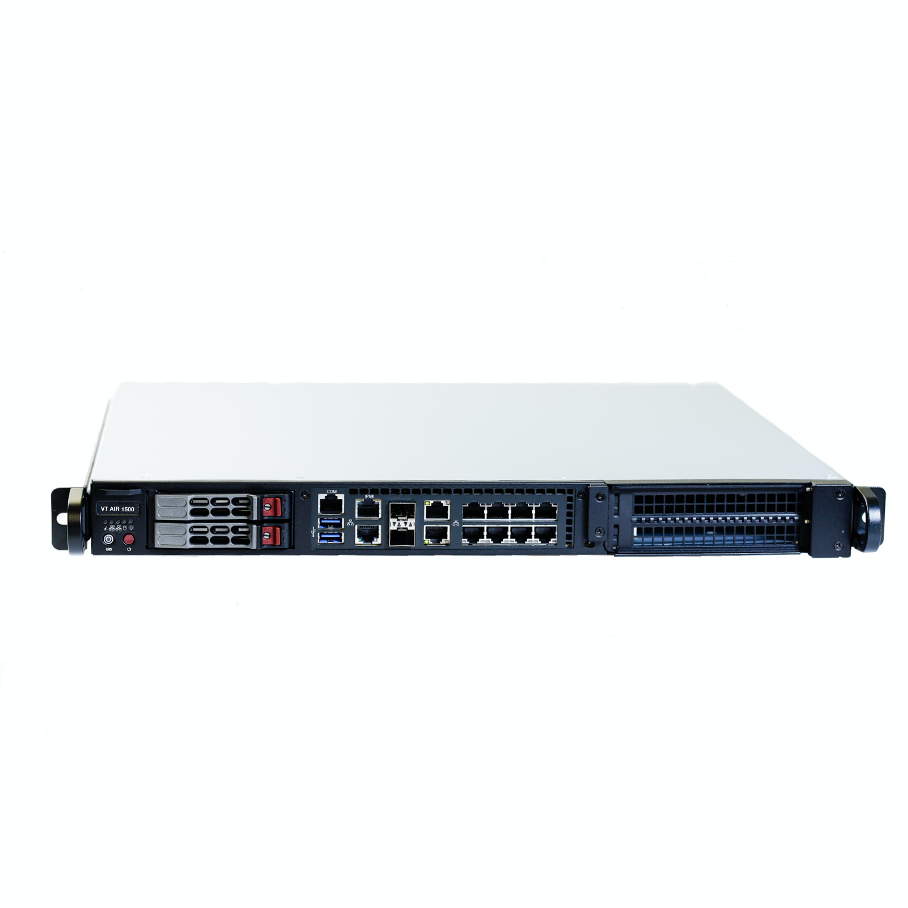 3.6.1.

Overview¶

Summary of Features
CPU

Intel Xeon D 2146NT, 2.3 GHz, Intel Quick Assist

CPU Cores

8 Cores

NIC

2x 10GbE Intel SFP+ Ports
2x 10GbE Intel RJ45 Ports
9x 1Gbps Intel RJ45

Remote Management

1x 1Gbps RJ45 IPMI

SSD

2x 256 GB Datacenter SSD SATA Hot Swap (RAID1)

RAM

32 GB DDR4 ECC Reg

Expansion

2x PCI-E 3.0 16x slots

Console-Port

VGA

USB Ports

2x USB 3.0 ports

LED

Power/Status/SATA Activity

Size

Standard 19" 1U rack mount

Cooling

Active control chassis fans

Power

100-240V, Internal Power Supply
German Powercord IEC320-C13

Enviroment

0°C to 45°C Operating Temp
8% to 90% Operating Relative Humidity (non-condensing)

Certificates

Electromagnetic Emissions: FCC Class B, EN 55032 Class B,
EN 61000-3-2/3-3, CISPR 32 Class B

Electromagnetic Immunity: EN 55024/CISPR 24, (EN 61000-4-2,
EN 61000-4-3, EN 61000-4-4, EN 61000-4-5, EN 61000-4-6,
EN 61000-4-8, EN 61000-4-11)
Other: VCCI-CISPR 32 and AS/NZS CISPR 32

Environmental: Directive 2011/65/EU, Deligated Directive (EU)
2015/863, and Directive 2012/19/EU

Safety: CSA/EN/IEC/UL 60950-1 Compliant, UL or CSA Listed
(USA and Canada), CE Marking (Europe)

Software

VT AIR Linux
3.6.2.

External Connectors¶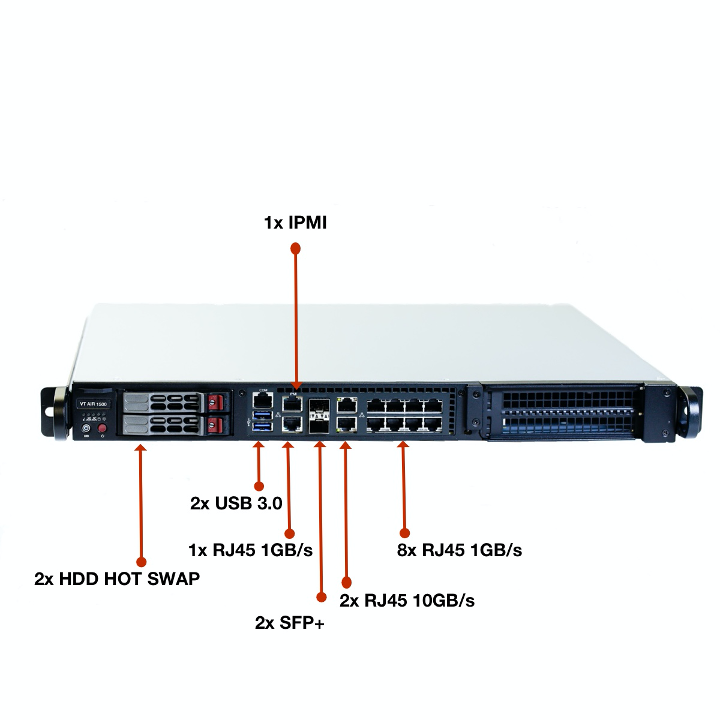 Certified Cables
The following is a list of industry-standard cables, sorted by type, with the necessary compliance requirements that have been proven to work well with the VT AIR product family.
These examples are the cables which Voleatech uses for testing and should provide enough information to source products from your preferred cable vendor.
Ethernet cable: Monoprice 24AWG Cat6A 500MHz STP (max. 30m)

USB Cable: SuperSpeed USB 3.0 Type A Male to Male Cable
USB Connector
The front USB connector supports USB 3.0, connector type A. It can deliver up to 500 mA of power.
3.6.3.

Packaging¶

The following items will be in the packaging of your VT AIR 1500. Please make sure to check all items upon arrival of the device:
VT AIR 1500 Device in the enclosure

Power cable

Rack mount
3.6.4.

Ports¶

Front Connectors
Network Ports

IPMI

eno13

eno11

eno3

eno5

eno7

eno9

eno1 (LAN)

eno12

eno10

eno2 (WAN)

eno4

eno6

eno8
| Label | Software Name | Features |
| --- | --- | --- |
| WAN | eno2 | RJ45 1000/100/10 Mbit/s |
| LAN | eno1 | RJ45 1000/100/10 Mbit/s |
| | eno3 | RJ45 1000/100/10 Mbit/s |
| | eno4 | RJ45 1000/100/10 Mbit/s |
| | eno5 | RJ45 1000/100/10 Mbit/s |
| | eno6 | RJ45 1000/100/10 Mbit/s |
| | eno7 | RJ45 1000/100/10 Mbit/s |
| | eno8 | RJ45 1000/100/10 Mbit/s |
| | eno9 | RJ45 1000/100/10 Mbit/s |
| | eno10 | RJ45 10000/1000/100/10 Mbit/s |
| | eno11 | RJ45 10000/1000/100/10 Mbit/s |
| | eno12 | SFP+ 10000/1000 Mbit/s |
| | eno13 | SFP+ 10000/1000 Mbit/s |
The RJ45 ports support Autonegotiation and Full Duplex or Half Duplex on all speeds.
The SFP Port supports the following Modules:
10Gb SR/LR

1Gb NOT SUPPORTED
SFP modules must be Intel coded. The Speed of the 10Gb modules can be set to 1Gb in VT AIR to connect to a 1Gb SFP.
Extension Card
Network Ports Extension Cards

Slot 1

enp23s0f0

enp23s0f1

enp23s0f2

enp23s0f3

Slot 2

enp100s0f0

enp100s0f1

enp100s0f2

enp100s0f3
3.6.5.

IPMI¶

The model comes equipped with an IPMI controller. The IPMI controller has a separate Network Interface but can also get its IP from a shared Network Port.

Warning

If you see a dhcp address being taken on the LAN port by default than is is the IPMI IP and not the Webgui

Note

Login Data are User: ADMIN (capital letters) Password: Provided on a sticker on the bottom or side of the device
3.6.6.

Power¶

The VT AIR 1500 has 1 power cable connector.
3.6.7.

VGA Console¶

The VT AIR 1500 has a VGA port where you can connect a VGA monitor to see the console.
3.6.7.1.

First Connection to VT AIR Appliance¶

All VT AIR Appliances have a default LAN IP Address of 192.168.1.1 and the DHCP Server is active on LAN. Please make sure to locate the LAN interface of your appliance in the manual.

Connect your computer to the LAN Interface and receive an IP Address from the DHCP Server. It will be in the 192.168.1.X range.

After receiving the IP Address open a supported browser and navigate to https://192.168.1.1 A certificate warning will appear, since the VT AIR is using a self signed certificate. Please accept the certificate and continue to the page.

You will now be presented with the VT AIR login screen and you can use the default User and Password to login.

Note

User: admin Password: vtair

Please change the password after the first login.
3.6.8.

VT AIR Reinstallation¶

Your VT AIR device comes pre-installed with its operating system. Should you ever need to reinstall the VT AIR operating system follow this guide.
3.6.9.

LEDs¶

The VT AIR 1500 has multiple LEDs. They are indicating for example power on, connection and port activity. Ethernet port related LEDs are embedded in the RJ45 connectors, while the power indicator LED is located next the serial port.

The RJ45 NIC LEDs are configured the following way:
| LED Activity | Explanation |
| --- | --- |
| Off | No connection |
| Green Light Only | 100Mbit/s Speed |
| Green and Yellow Light | 1000Mbit/s Speed |
3.6.10.

Operational Data¶

Operational Voltage
| Item | Voltage | Current | Ambient Temperature |
| --- | --- | --- | --- |
| AC Voltage | 100 - 240 V | 0.5 - 2.5 A | Max. 45°C |
Enviromental Data
The environmental temperature data are based upon the component with the lowest available temperature. Please make sure to check which addons you ordered and make sure not to exceed the allowed ambient temperature.
Warning
Failure to comply with the allowed ambient temperature may void the warranty of your device.
| Ambient Temperature | Minimum | Maximum |
| --- | --- | --- |
| Base Device | 0°C | 45°C |
| Humidity (non-condensing) | 8 % | 90 % |
3.6.11.

Warranty Terms and Conditions¶

Voleatech GmbH guarantees its hardware products against defects in workmanship and material for a period of one (1) year from the date of shipment. Under warranty, the customer's sole remedy and Voleatech's sole liability shall be, at Voleatech's sole discretion, to either repair or replace the defective hardware product at no charge.
This warranty is void if the hardware product has been altered or damaged by an accident, misuse or abuse or is not operated according to this manual.
For additional information on warranty and related topics like RMA, please visit voleatech.de.

Disclaimer of Warranty
THIS WARRANTY IS MADE IN LIEU OF ANY OTHER WARRANTY, WHETHER EXPRESSED, OR IMPLIED, OF MERCHANTABILITY, FITNESS FOR A SPECIFIC PURPOSE, NONINFRINGEMENT OR THEIR EQUIVALENTS UNDER THE LAWS OF ANY JURISDICTION, EXCEPT THE WARRANTY EXPRESSLY STATED HEREIN. THE REMEDIES SET FORTH HEREIN SHALL BE THE SOLE AND EXCLUSIVE REMEDIES OF ANY CUSTOMER OR PURCHASER WITH RESPECT TO ANY DEFECTIVE PRODUCT.

Limitation on Liability
UNDER NO CIRCUMSTANCES SHALL VOLEATECH GmbH BE LIABLE FOR ANY LOSS, DAMAGE OR EXPENSES INCURRED OR WITH RESPECT TO ANY DEFECTIVE PRODUCT. IN NO EVENT SHALL Voleatech GmbH BE LIABLE FOR ANY INCIDENTAL OR CONSEQUENTIAL DAMAGES THAT CUSTOMER MAY SUFFER DIRECTLY OR INDIRECTLY FROM THE USAGE OF ANY PRODUCT. BY ORDERING THE VT AIR 1500, THE CUSTOMER APPROVES THAT THE VT AIR 1500, HARDWARE AND SOFTWARE, WAS THOROUGHLY TESTED AND HAS MET THE CUSTOMER'S REQUIREMETS AND SPECIFICATIONS.
3.6.12.

Legal Notice¶

Voleatech GmbH (hereinafter "Voleatech") products and services are sold subject to Voleatech terms and conditions of sale, delivery and payment supplied at the time of purchase order acknowledgement. Voleatech warrants the performance of its products according to actual specifications at the date of shipment. Voleatech reserves the right to make changes to its products and specifications or to discontinue any product, product line or service without prior notice.
Customers should make sure to obtain in each case the latest version of relevant product information from Voleatech and to always verify for themselves that their requirements are met and reference is up to date. Product testing and all additional quality control techniques are utilized to the extent that Voleatech deems necessary to support their warranty and warranty terms. Therefore detailed testing of all parameters in any product is not necessarily performed in full unless required by law or regulation.
In order to minimize risks that may be associated with customer products, applications or services, the customer must use adequate design and operating safeguards to minimize any possible hazards. Voleatech is not liable for any applications assistance or customer product design and thus it is the customer's sole responsibility to make the selection and usage of Voleatech products. Voleatech is not liable for any such selection or usage thereinafter and neither is liable for the usage of any circuitry or components other than completely and entirely embodied in a Voleatech product. Furthermore Voleatech is not liable for its products commercial fit for any market segment envisioned by the customer.
Voleatech products are not intended for use in life support systems, appliances, nuclear systems or systems where malfunction can reasonably be expected to result in personal injury, death or severe property or environmental damage. Any use of Voleatech's products by the customer for such purposes is completely at the customer's own risk.
Voleatech does not grant any license -expressed or implied- on any patent right, copyright, mask work right, type or model protection or any other intellectual property right (IPR) of Voleatech covering or relating to any product combination, hardware, machine, software or process in which its products or services might be or are used. Any provision or publication of any third party's products or services does not constitute Voleatech's approval, license, warranty or endorsement thereof. Any third party trademarks contained in this document belong to the respective third party owner.
Reproduction of content and information from Voleatech documents and manuals is permissible only if reproduction is without alteration and is accompanied by all associated copyright, proprietary and other notices (including this notice) and related conditions. Voleatech is not liable for any un-authorized alteration of such content and information or for any reliance related to alterations thereon. Any representations made, warranties given, and/or liabilities accepted by any person which differ from those contained in this manual or in Voleatech's standard terms and conditions of sale, delivery and payment are made, given and/or accepted at customer's own risk. Voleatech is not liable for any such representations, warranties or liabilities or for any reliance thereon by any person.
3.6.13.

Regulatory¶

This chapter provides regulatory and compliance information about Voleatech's VT AIR 1500 -related information.
Product name: VT AIR 1500

Safety Notice

Before you begin using this product, please read the following safety information. Attention to these warnings will help prevent personal injuries and damage to the products.
It is your responsibility to use the product in an appropriate manner. This product is designed for use solely indoor environments or, if expressly permitted, also in the field and must not be used in any way that may cause personal injury or property damage.

You are responsible if the product is used for any intention other than its designated purpose or in disregard of Voleatech's instructions. Voleatech shall assume no responsibility for such use of the product.
The product is used for its designated purpose if it is used in accordance with its product documentation and within its performance limits.

Safety Information and Notices

Never turn on or connect to power any equipment when there is evidence of mechanical damage, fire, exposure to water, or structural damage.
When not in use, avoid placing or storing the product in the following places or under the following conditions:

Ambient temperature above 45°C

Exposed to direct sunlight

Humid or exposed to dust
Warning
This product does not contain any user replicable or serviceable parts. Do not take apart or attempt to service the product yourself.
Never remove the cover or any part of the housing of the product.
The internal battery is not user replicable.
In the event of an equipment malfunction, all repairs must be performed either by Voleatech GmbH or by an authorized agent. It is the customer responsibility to report the need for service to Voleatech GmbH or to one of the authorized agents. For service information, contact Voleatech GmbH customer support.
Be careful not subject the product to strong impact.
If the product was subjected to a strong impact and/or falling over check carefully for any damage to the product. If such damage is observed the use of the product must be stopped immediately.
Operation
The product may be operated only under the operating conditions as specified by Voleatech GmbH.
When the product is used for an extended period of time, and/or at high ambient temperature and/or exposed to direct sunlight it is normal for the product body to feel warm.
Avoid overheating the product.
The product's ventilation should not be obstructed or blocked. If proper ventilation is not provided it can result in battery overheating or explosion of the battery resulting fire, burns or other injuries.
Stop using the product immediately if it emits smoke or a strange smell, or otherwise behaves abnormally.
Following are the required operating position and conditions:
Do not place the product on unstable surfaces

Do not place the product on elevated surface and secure it from falling from high places on passerby

Do not place the product on heat-generating surface or near heat emitting devices or direct flame. Verify that there is sufficient clearance between the product and any other device exhaust warm air.

The product operating ambient range can be found at Environmental Data. Voleatech GmbH recommends that an ambient temperature of 0 to 40 °C (32 to 104 °F) and relative humidity of 30-50% is maintained during normal operation as this will result in better performance and longer life of the equipment. Temperature must not exceed the maximum temperature specified in Environmental Data.

Do not expose the product to moisture or dust.

The product is not liquid proof; therefore, the equipment must be protected against penetration by liquids. If the necessary precautions are not taken, the user may suffer electric shock or the product itself may be damaged, which can also lead to personal injury.

Never use the product under conditions in which condensation has formed or can form in or on the product, e.g. if the product has been moved from a cold to a warm environment. Penetration by water increases the risk of electric shock.
Electronic Emission Notices (EMC)
Federal Communications Commission Declaration of Conformity
The following information refers to VT AIR 1500.
This equipment has been tested and found to comply with the limits for a Class B digital device pursuant to Part 15 of the FCC Rules. These limits are designed to provide reasonable protection against harmful interference when the equipment is operated in a commercial environment. This equipment generates, uses, and can radiate radio frequency energy and, if not installed and used in accordance with the manufacturer's instruction manual, may cause harmful interference with radio communications.
Operation of this equipment in a residential area is likely to cause harmful interference, in which case you will be required to correct the interference at your own expense.
Responsible Party:
Voleatech GmbH
Gratwohlstr. 5
72762 Reutlingen
Germany
WEEE and recycling statements
The WEEE marking on Voleatech GmbH products applies to countries with WEEE and e-waste regulations (for example, the European WEEE Directive). Appliances are labeled in accordance with local regulations concerning waste electrical and electronic equipment (WEEE).
These regulations determine the framework for the return and recycling of used appliances as applicable within each geography. This label is applied to various products to indicate that the product is not to be thrown away, but rather put in the established collection systems for reclaiming these end of life products.
Users of electrical and electronic equipment (EEE) with the WEEE marking must not dispose of end of life EEE as unsorted municipal waste, but use the collection framework available to them for the return, recycle and recovery of WEEE and to minimize any potential effects of EEE on the environment and human health due to the presence of hazardous substances. Voleatech GmbH electrical and electronic equipment (EEE) may contain parts and components, which at end-of-life might qualify as hazardous waste.
EEE and waste electrical and electronic equipment (WEEE) can be delivered free of charge to the place of sale or any distributor that sells electrical and electronic equipment of the same nature and function as the used EEE or WEEE.

Restriction of Hazardous Substances (RoHS) European Union RoHS
This product, with included parts (cables, cords, and so on) meets the requirements of Directive 2011/65/EU and directive 2015/863/EU on the restriction of the use of certain hazardous substances in electrical and electronic equipment ("RoHS recast" or "RoHS 2").