3.7.

VT AIR Amazon AWS¶

VT AIR AWS brings you all VT AIR feature to Amazon's Cloud.

VT AIR AWS AMI can be run in any region where EC2 offers service on various sizes of instance. VT AIR for AWS is available in the AWS Marketplace.

Two different versions are currently available:
Intel Based VT AIR Version

Graviton Based VT AIR Version
The graviton version will only run on the AWS Graviton EC2 instances.
All features are available in the AWS Version and you can use VT AIR as a firewall to protect your EC2 instances or as a VPN server to connect via IPSec, OpenVPN or WireGuard.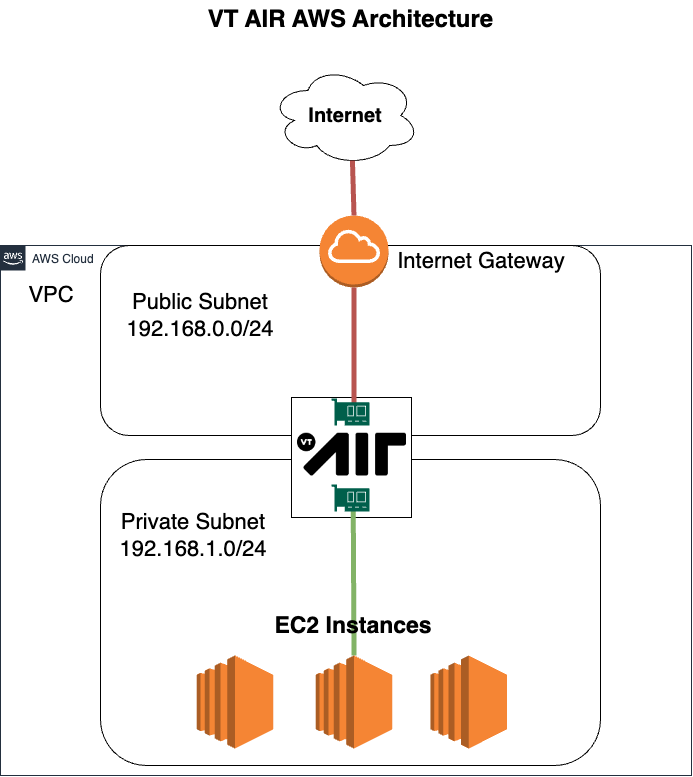 In order to configure your AWS environment to utilize VT AIR as a firewall in front of other VMs, a couple of configuration steps have to be done.
VPC configuration

New VPC

Public Subnet

Private Subnet

Public Routing Table

Internet Gateway for default route

Private Routing Table

Default route pointing to VT AIR LAN interface

Public Security Group

Private Security Group

EC2 VT AIR Appliance

Public Network Interface (WAN)

In the Public Subnet

Public Security Group

Private Network Interface (LAN)

In the Private Subnet

Private Security Group

Disable Source and Destination Check

Allocate Elastic IP

Connect to the Public Network Interface (WAN)

VT AIR configuration

Enable and set LAN Interface

Create DNAT Rules and VPN Configuration

EC2 VMs

Add to the Private Network Subnet

Set Private Security Group