11.7.

SNAT (Postrouting)¶

SNAT or Source NAT is repsonsible for changing the Source IP Address of a Network Packet. It is the last rule that is processed in VT AIR when a new Network Packet arrives at the firewall.

With SNAT you can masquerade the sender of the Network Packet. SNAT rewrites the source of the Network Packet to the IP you choose.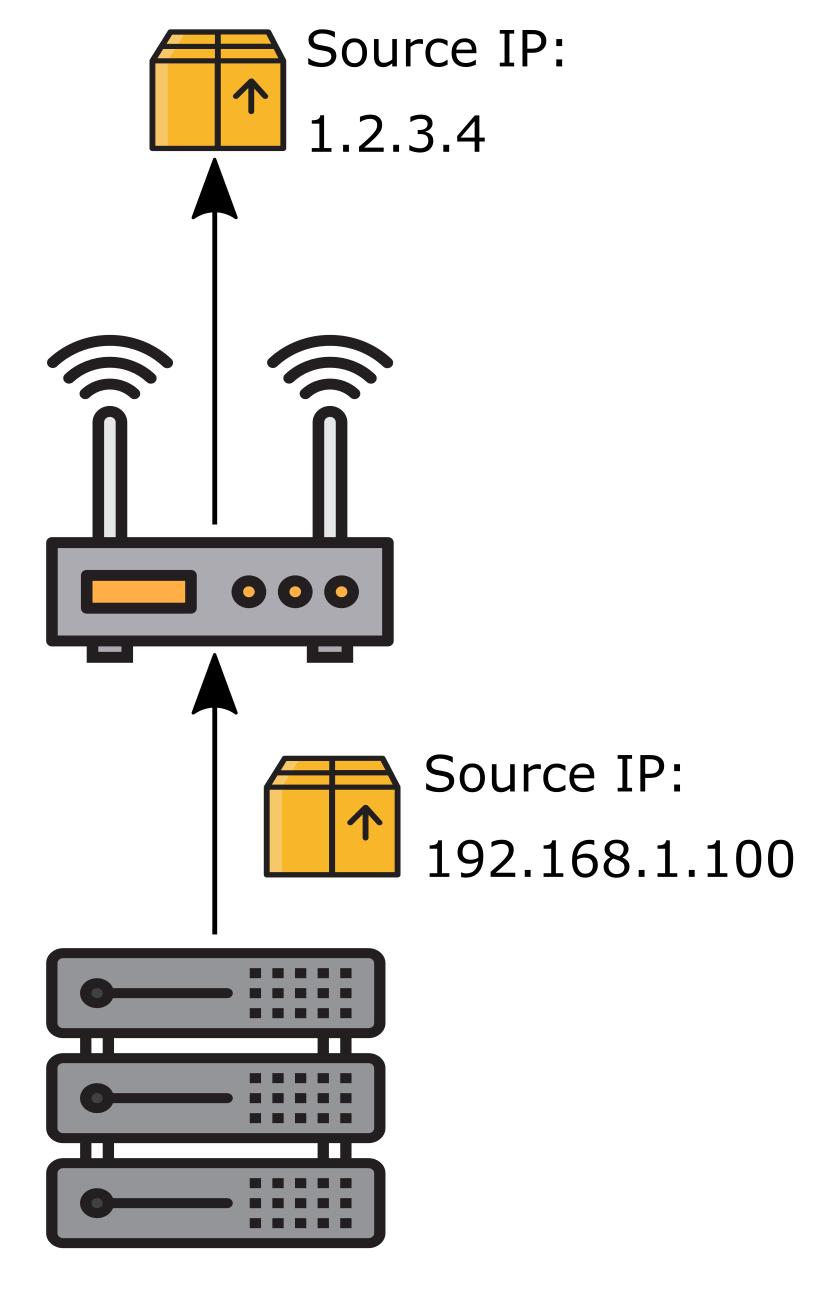 This image was created with icons by srip and Good Ware from Flaticon.
By default traffic coming from your local network and going to a destination outside of your network will be given a new source IP reflecting your WAN IP. However this is not always the desired behaviour. In High Availability setups for example a shared virtual WAN address must be used. Refer to Setup Examples for further details on this.

You can find the SNAT Rule Settings at Firewall → NAT.
You will find 3 Tabs here Inbound (DNAT), Outbound (SNAT) and Both (BiNAT).
Click on SNAT to get to the rules.
11.7.1.

Move SNAT Rules¶

Rules are gouped by interface and are paged in groups of 20 rules. You can drag and drop user created rules to a different position and you can save that position by pressing save on the bottom navigation. You can also move a rule to the next or previous page or the first or last page if you mark the rule on the left (click on the first the cell of the firewall rule) and use the arrows on the bottom left. If you hover over the buttons they will also show you their description.
11.7.2.

Create and Update SNAT Rules¶

If you click Add you will create a new dnat rule on the current interface where you are. You have various options for the rule to set and the rules are structured by the following sections:
General Settings

Sources

Destinations

NAT Settings

Advanced
11.7.3.

Search¶

In the top right corner of the overview page you can search for rules. As search value you can use protocol, source, destination, IP address, port or description.