16.17.

Web Filter¶

You can find the Web Filter Settings at Services → Web Filter.

The Web Filter is using SquidProxy, a caching proxy for the Web supporting HTTP, HTTPS and more.
16.17.1.

Settings¶
16.17.2.

ACL¶
Defining an Access List. An ACL has a type Source, Destination Domain, Destination Regex, Port, Protocol or Custom. Custom allows you to pick an ACL Type from the Squid manual (Squid ACL).
An ACL entry can have one or multiple entries and you have to enter one per line. For example the ACL Source could contain:
192.168.100.1

192.168.101.0/24
Log Full Traffic enables you to log the full data packet that matches this ACL. For HTTPS traffic it must be bumped first so it can be read unencruypted.
SSL Bump SSL Bump and look into SSL traffic. Splice reads the SNI field and the certificate but does not decrypt the traffic. Bump will create a MITM with the squid certificate and encrypt and decrypt all traffic. The option allows you to only read or encrypt matching traffics. Please run Squid in HTTPS mode and choose a Certificate or this option will not have an effect.
16.17.3.

HTTP Access¶
Allowing or Denying access based on defined access lists. HTTP Access lists are defined by combining ACLs with either AND or OR. You can also negate an ACL with NOT.
This allows you to define access or decline access based on ACLs.
For example to deny access to www.google.com you have to create an ACL of type Destination Domain. You can use that ACL in HTTP Access of type Deny.
The order of HTTP Access matters and you can drag & drop entries in the list to create the desired order.
16.17.4.

Authentication¶
Here you can setup an additional authentication method. There is only LDAP for now.
16.17.4.1.

LDAP¶

Authentication Server can be selected from the authentiation servers you created in the VT AIR.

Filter is an LDAP search filter to locate the user DN. Required if the users are in a hierarchy below the base DN, or if the login name is not what builds the user specific part of the users DN. It is (&(objectCategory=Person)(samAccountName=%s)) by default.

Credentials TTL is the time in minutes after credentials will be rechecked. Default value is 5.

Proxy Message is the proxy authentication informational message for your proxy users. Default is Squid Proxy.

Auth Helpers (Total) is the total number of authentication helpers to run. It is recommended to set it equal to the approximate number of proxy users in the network. Default value is 20.

Auth Helpers (Idle) is the idle number of authentication helpers to run. It is recommended to make it equal to about half of the total number of users in the network. Default value is 10.

Auth Helpers (Startup) is the number of authentication helpers to run at startup. It is recommended to make it equal to about a quarter of the total number of users in the network. Default value is 5.

In order to enforce the authentication, you need to create a HTTP Access rule that includes the predefined ACL proxy_auth REQUIRED. It can be combined with other ACLs to create rulesets that fit your needs.
16.17.5.

Example Proxy Configuration¶

Web Filter can be configured as a Proxy in your network. This means that traffic from inside your network can be analyzed before leaving towards the internet and web content entering your network can be cached. This is useful for blocking access to specific services that are unwanted but not necessarily malicious (which is a task for Intrusion Detection Intrusion Detection) and to save on bandwidth when browsing the internet with multiple clients in your local network.

A typical configuration is shown here. Go to Services → Web Filter and enable the package. Typically you'd want your local network (e.g. LAN) selected as the Interface.

Transparent Proxy

Top configure your Web Filter as a transparent proxy that caches web traffic for your local network, enable HTTP and HTTPS as well as the Transparent Proxy option on both.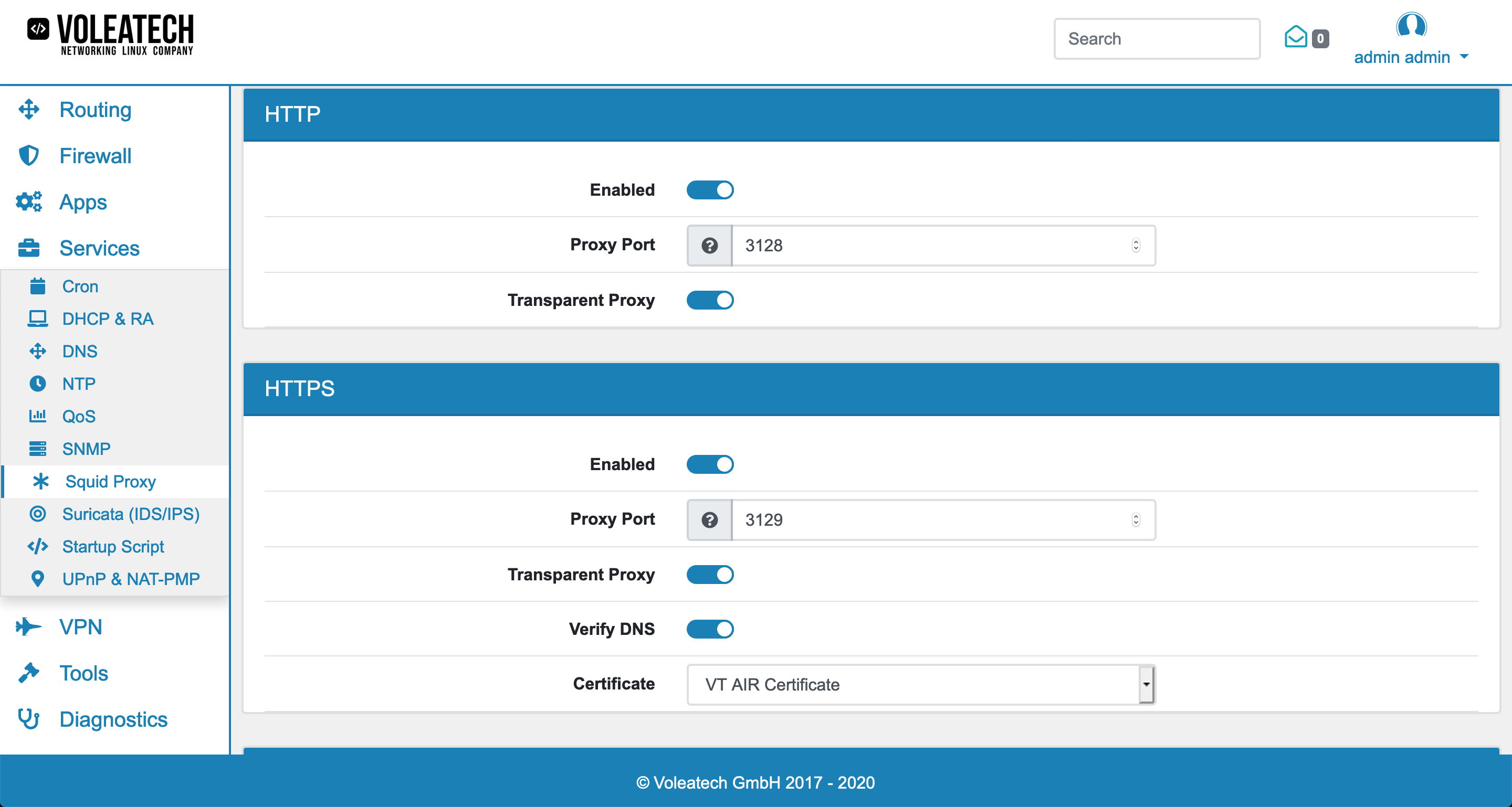 Be aware that the HTTPS transparent proxy can not look inside encrypted traffic. Only the certificate and hostname are visible to make decisions.
Proxy with anti-virus
Then Enable ClamAV Anti-Virus and choose an update interval. The anti virus can only inspect unencrypted traffic. For HTTPS transparent proxy no virus scan can be performed.
Blocklists
Enable Blocklist and choose an update interval to pull in the predefined blocklists.
To configure your blocklist settings go to Services → Web Filter → ACL. Here you can find an overview of all the blocklisting categories that are available. Go to Services → Web Filter → HTTP Access to create the filtering rules.
Click Add or Edit to create or edit the blocklist rule. Set Action to Deny, Logical Operator to OR and add all the blocklist categories that you want to block under ACL.